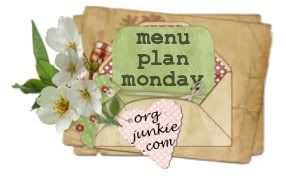 I tried to get a jump on this last night but it didn't happen. Last night was a mad dash to get a kid ready to return to school after 9 days off...2 weekends, an absence because of a doctor appointment and 4 snow days. What's the deal with all the snow?? The infrequency of snowfall is one of the main reasons I live in Texas. :) They say we're supposed to get more on Wednesday too so really I could go from not having to cook anything on Wednesday to full blown panic mode if the snow hits and our scheduled "activities" are cancelled. Joy, oh joy!
So, on the agenda this week is choir practice on Wednesday for B if it isn't cancelled because of the weather. Choir practice along with evening church service for her usually means I fend for myself because they feed the kids at church. Thursday there is a basketball practice at some point in the evening unless the weather messes that up so we'll have something quick that night. Saturday is B's first basketball game but we still don't know the time so I may fix something that night and then again we may go out to eat if her daddy comes up. Sunday I'm not sure what I'll fix but maybe it will be sausage, potatoes and onions which is a fall back meal for me.
Monday - Spaghetti w/garlic bread
Tuesday - Fried Chicken w/mashed potatoes
Wednesday - FFYS or grilled cheese w/tomato soup
Thursday - B'Ball Practice - Burritos w/spanish rice
Saturday - 1st B'Ball game, dinner out?
Sunday - Sausage, potatoes & onions skillet
So, how is your week shaping up? Got your meal plan ready?