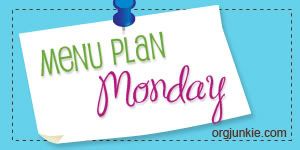 I have fallen and can't get up..... Onto the menu planning wagon that is.
LOL, I actually have been more or less planning my menus but haven't been posting them to my blog. I also haven't been following said menu plans very well. So I'm back to linking up with
Laura
at
I'm an Organizing Junkie
. She must be onto something with the planning thing because hardly a week goes by that there aren't at least 300 other bloggers linked to her site. It's awesome blog hopping to see what everyone else is eating and finding new recipes. I love it!
Anyway, this being summer and all, everything around here has been kind of "catch as catch can". We're just now hitting the halfway mark of summer vacation. I'm hoping that the remainder of the summer goes by quickly but not too quickly.
I've got some yellow squash that I will be cooking early in the week even though I'm almost positive the Bee won't eat it. It has to be fixed and soon or I will end up losing it. Also, the Bee is leaving on Friday to go spend an extended weekend with her daddy so I will be kid-free this weekend. I won't be planning meals for those days.
So here ya go...my menu for the week ahead.
Spaghetti w/meat sauce
garlic bread
Baked chicken leg quarters (crock pot)
stuffing
garlicky asparagus
Chicken strips
mashed potatoes w/gravy
broccoli
McD's (after counseling appt)
Yoyo nights
(You're

I'm

on your

my

own)