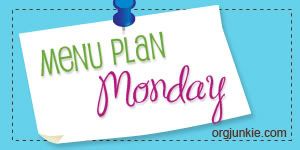 I'm not going to do a long winded blog post today because I think that's where I mess up on my consistency. I get ready to do a post and then I sit and think about what I need to put in the post to make it interesting. I think myself right out of making the post really. The purpose of today's post is to put my menu plan up where I can be held accountable and have a plan for the week so that's what I'm doing.
Wednesday - Chicken Leg Qtrs.
Thursday - Hamburger Helper (Meet the Teacher night)
S
aturday - Grilling (B's daddy will be in town)
I have the meat for the different days planned out but haven't really come up with an actual recipe for everything. I'll try to come in at the end of the week and edit with how I fixed everything and I'll also try to include either a recipe or simple directions for what we ate.
Next week school starts and I will really need to have a menu plan each week so hopefully you'll be seeing posts from me more frequently even if it is just my menu plans. Until then, I hope everyone enjoys what is left of summer.
I'm linking up with Laura over at
I'm an Organizing Junkie
again because it's such a wonderful gathering of planners who participate each week.